A NEW SEASON OF STEEL CONSTRUCTION
Light Steel Frame Construction Delivers Precision, Efficiency and Savings - Seasons Retirement Residence, Cambridge, Ontario
Located in a heritage neighbourhood in Cambridge, Ontario, the new Seasons retirement residence looks like it belongs. Stone and brick clad the bottom two floors, reflecting the architecture and scale of the street. Above, the tower that rises from the podium is a lighter, more modern stucco. But don your x-ray glasses to look beyond the exterior cladding and you'll see the structure inside the eight-storey building is even more modern—light steel frame construction (LSF).
Light gauge steel is proving to be a logical and efficient way to build many projects. The ease of assembling a ready-made structure combined with the significant savings this approach allows makes light steel frame construction a no-brainer.
Structural engineer Raymond Van Groll explained that Seasons Cambridge was originally intended to be an all concrete structure, but his firm redesigned it to LSF. The decision use a light steel framing system was simple for Van Groll—LSF offers a level of precision, efficiency and cost-savings that is unmatched.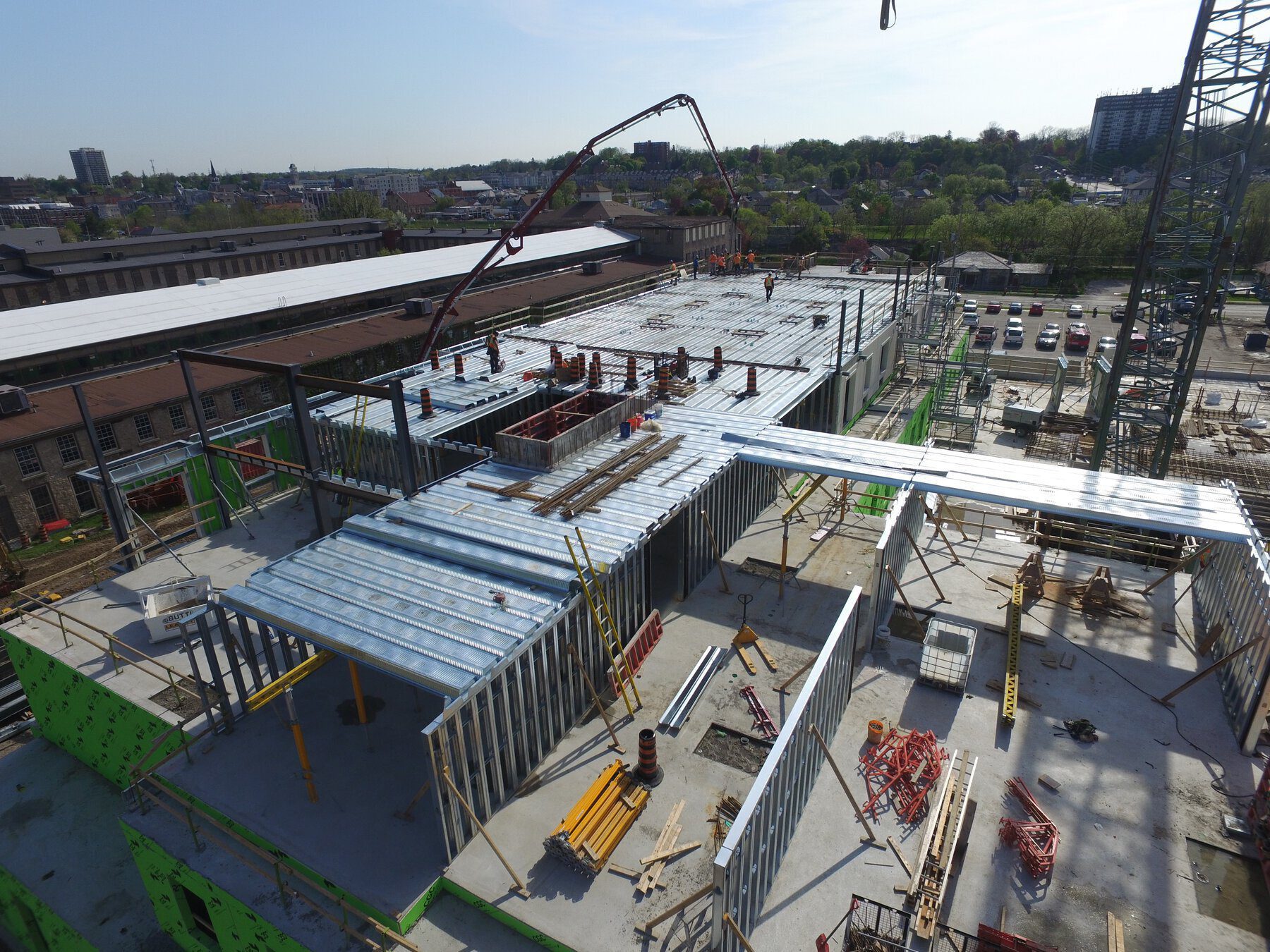 The building's architects, Glos Associates, also agreed that LSF was the way to go. "The light steel frame is a popular system nowadays. We can use it to erect a building quickly by panelizing walls in a plant before they go up on-site, and then drop them in place with a crane," said Shane Mitchell, the architect on the project.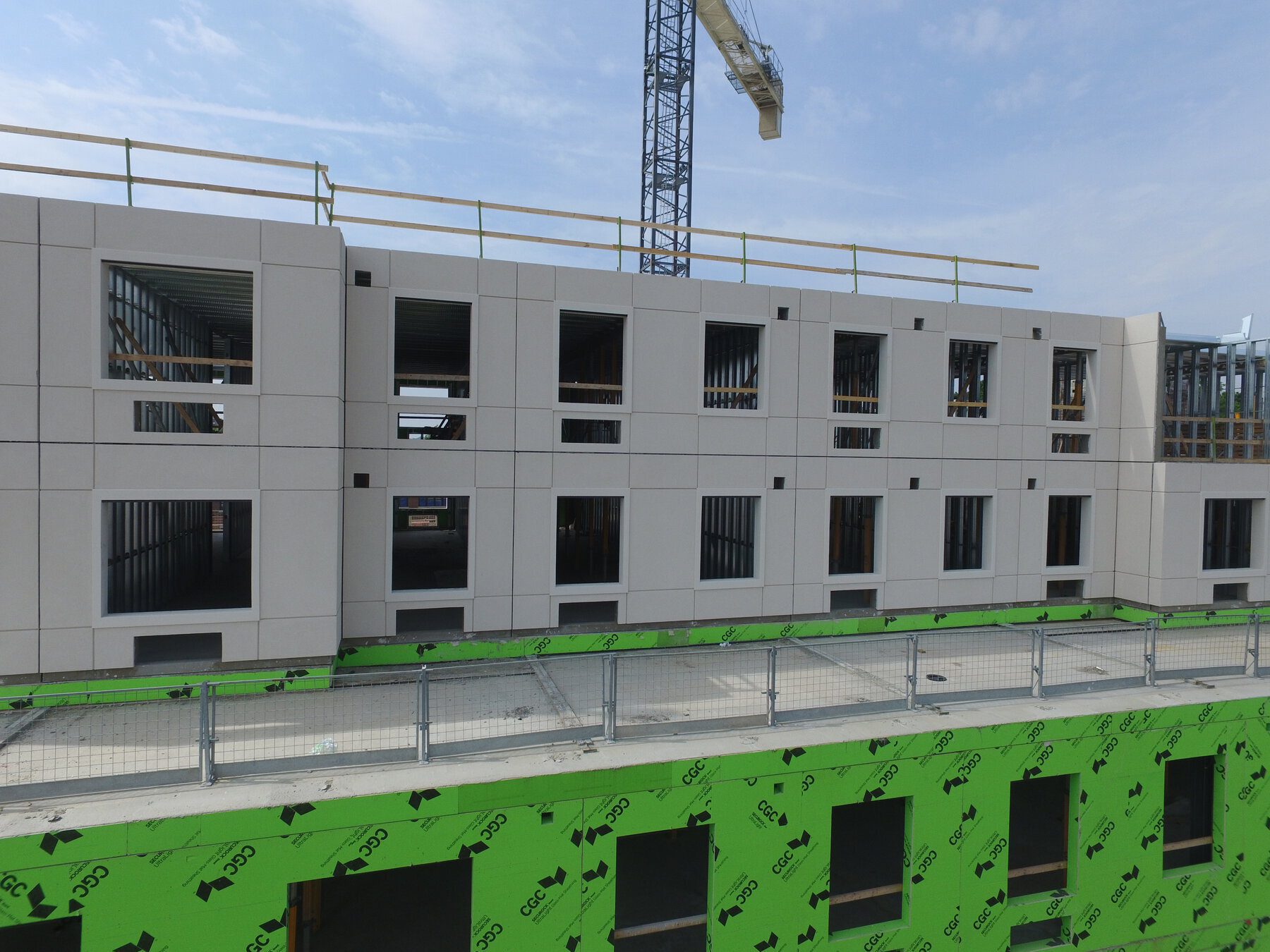 The redesign involved making the transfer floor a combination of steel and concrete framing and then switching to an all light gauge steel system with concrete cores for stability. Floors three to eight are strictly light steel framing. For the interior, the partition walls between units are load bearing, while the exterior walls are both load and wind bearing.
The load-bearing steel stud walls on the outside were made as pre-finished panels including the exterior stucco finish. "The stucco system is pre-installed onto the panel so it goes up like a Lego [block]," said Van Groll. "We're putting the load-bearing walls on the inside, they put the floors on and then they enclose the outside with a similar load-bearing element that's actually finished stucco wall. Some were a finished faux-brick."
A-LINX Building Technologies, a manufacturer of light framed steel buildings, was selected for the Seasons build. "This typology of building adapts itself perfectly for stacked units," said Dino Fantin, the project's construction manager. "It's perfect for student residences, retirement homes, hotels, condos, etc. because they're all smaller… footprints that move up vertically."
There are four key requirements for mid-rise light-frame steel construction: structural, fire, thermal and acoustics. Each of these requirements is addressed under existing building codes, but these codes are constantly evolving.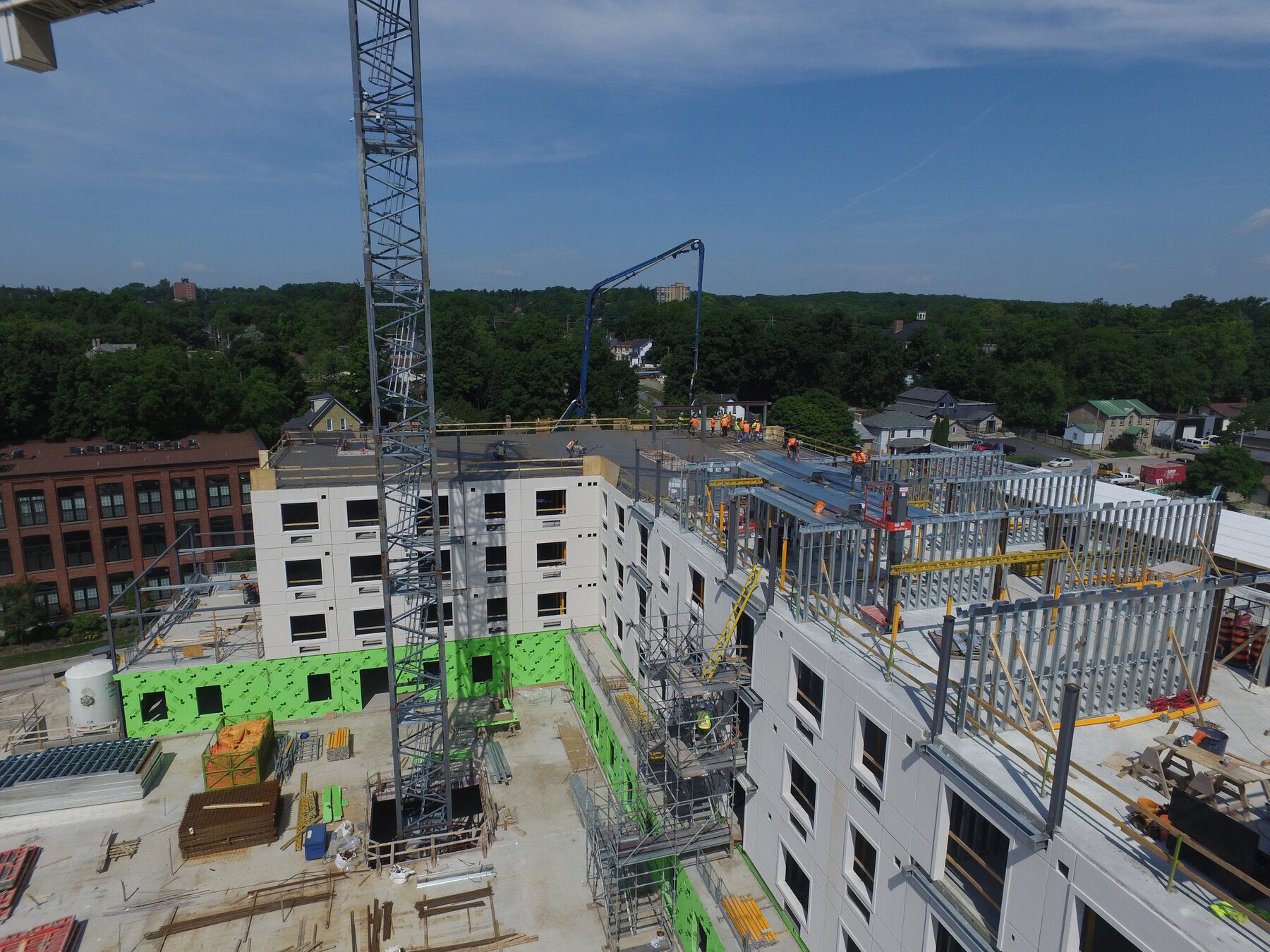 Van Groll highlights that ArcelorMittal Dofasco has been supporting the light gauge industry for years. The company has been focused not only on ensuring the materials it manufactures meet or exceed building standards, but it has also been involved in the evolution of building codes as technology advances.
Fantin is confident that LSF construction will become far more popular as time goes on. "With light steel framing and pre-fabricated panels, we build as much of the building as we can off-site. This is all the light gauge interior steel walls and pre-fabricated exterior panels with the sheeting on it. They are built in the shop so you have 100 per cent quality assurance."
For Van Groll, LSF represents a new stage of engineering. He likens LSF construction to how cars are built on assembly lines. The controlled environment of the plant allows for a level of precision that cannot be achieved when building on-site. And cars roll off the line fully assembled, not in pieces that have to be put together elsewhere.
"We use less concrete, less materials, less reinforcing materials, less labour," he explains. "This is the evolution of where this type of construction needs to go."