Pre-painted Galvanized Steel Insulated Steel Panels complement revitalized Terminal 1
Ideally located on the St. Lawrence River, Montreal's Old Port is renowned for its walking and cycling network, along with free public spaces with spectacular views of the river and of the city skyline. This project, completed in 2018, the Port of Montreal's Grand Quai, adds to this network and showcases an insulated steel panel exterior envelope solution on the buildings.
In 1967 the Iberville Passenger Terminal, or Terminal 1, was constructed on a 305m x 91m (1,000 ft. x 298.5 ft.) pier for receiving cruise ship passengers. Parallel to it was a parking structure, or Terminal 2. They extend nearly the entire length of the pier.

A project to renovate the entire cruise ship terminal was launched in 2014. The parking structure, which covers 7,500m2 (80,730 sq. ft.), was renovated. The contractor first removed the second story of Terminal 1, then demolished a building at the entrance to the pier and sloped the far end of the pier so that both pedestrians and cyclists could easily descend to the water's edge.

A Port Centre was built on the site of the demolished building and is connected to Terminal 1. Terminal 1 was rebuilt on one level and a Pavilion was built onto the far end of the structure. Provencher_Roy specified Norex-H, 76.2mm (3") thick, insulated steel panels, manufactured and supplied by Norbec, for the exterior of the 8,150m2 (86,708 sq. ft.),Terminal 1, Port Centre and Pavilion.

Each panel measures 760mm by 4,825mm (30 in. x 15.8 ft.). The exterior is pre-painted .76mm (.0299") Z275 (G90) galvanized steel, with a fluoro polymer paint system, coloured Regal White 17-1651. The interior surface is .45mm (.0179") Z275 (G90) galvanized steel, pre-painted with Interior White QC7973. A total of 2,350m2 (25,295 sq. ft.) of Norex-H was used.
At the entrance to the Grand Quai is the Port Centre, with a conference room and a permanent History of Ships exhibition.
"The building is very long. This kind of product works well
to cover long surfaces without windows and doors. It has a
geometry that works well in the context of a maritime station,"
says Sonia Gagné, Partner and architect with Provencher_Roy.
"It is economical, rapid to install and the panels marry well with
a simple building volume. The horizontal modules emphasize
the linearity of the building."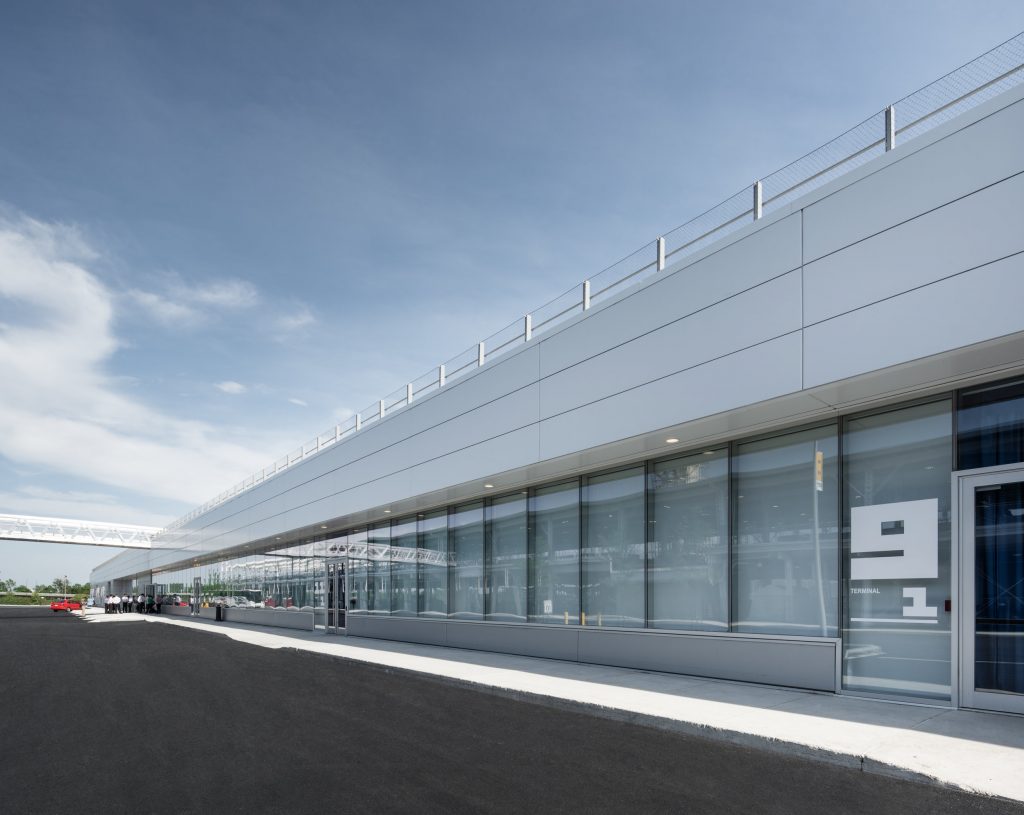 Norex, is a polyurethane core panel which offers unparalleled thermal value. It provides fire and rain protection barriers as well as ensuring resistance
against wind and tears because of its exclusive anchoring system, when installed. The design of this product is cavity free and has a thermal barrier,
reducing the risk of condensation penetration and in return moisture.
Norex H insulated steel panels being installed on the light steel framing of Terminal 1 and on the Pavilion of Grand Quai.
Redesigned and renovated, the Port of Montréal's Grand Quai receives cruise ships and welcomes local pedestrians and cyclists to a waterside park in this beautiful, historic area.