A CLEAR SPAN FOR SUCCESS
KF Aerospace's growth plans take off with steel support
by Julia Preston, Photos: Daniel Banko and Pat Versavel
THE NEW KF AEROSPACE MAINTENANCE HANGAR LOCATED AT JOHN C. MUNRO, HAMILTON INTERNATIONAL AIRPORT.
---
A Boeing 777 airplane is 74m long, 65m wide and 18.5m tall. If you want to park it in the garage, you're going to need a big one.
Such a garage—or hangar, more accurately—exists at the YHM Hamilton International Airport. Opened in November 2019, the hangar is 87m wide by 80m deep with 20m high ceilings and easily accommodates wide-body aircraft, like the Boeing Triple Seven. Easily because the whole 23,000 square metre hangar is a clear span design.
The hangar is owned by Canada's KF Aerospace. KF specializes in aircraft maintenance, repair and overhauls. In mid-2018, owner Barry Lapointe decided that a wide-body hangar was necessary to maintain and expand the company's customer base. Just over a year later, KF opened the doors on the new facility in Hamilton.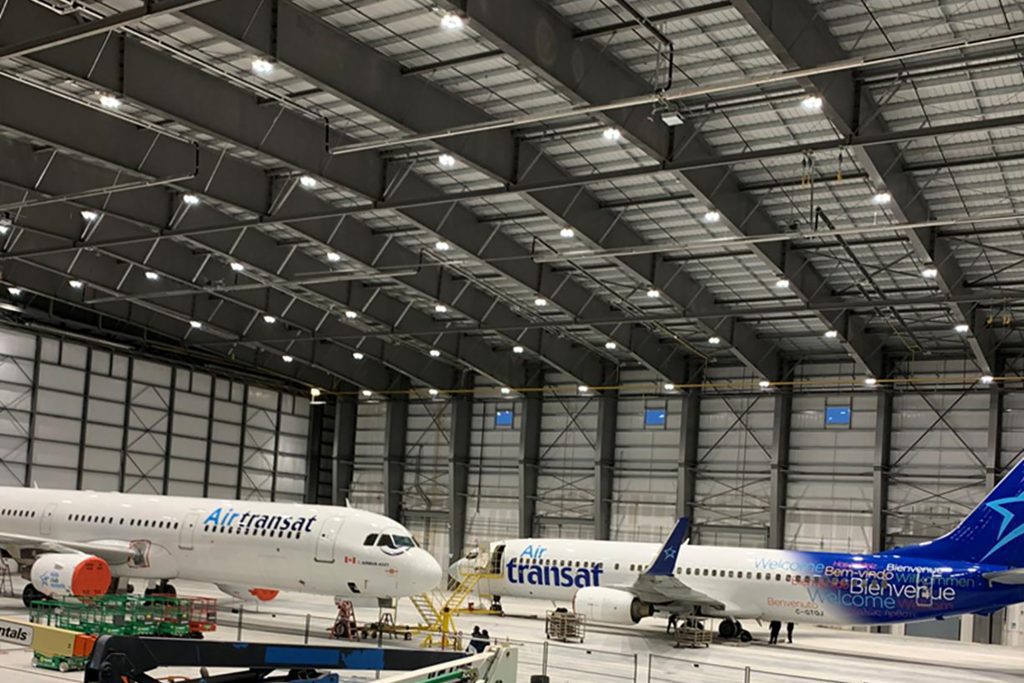 Pat Versavel , vice-president of engineering and innovation for Behlen Industries LP, reviews the timeline. "We had started quoting the project back in September and it kept going back and forth over various combinations… On December 31 it was actually awarded, and we started working on it right away at the beginning of January. All the steel was basically assembled by the end of August, and we handed over the keys in November. For that size of building and everything that went on it's a pretty tight schedule."
Behlen is known for its steel building systems. The company fabricated the hangar at its plant in Brandon and shipped the components to Hamilton.
"Everything is built or fabricated so that when it arrives on site the parts get organized and then following the instructions you just bolt everything together, stand it all up in a sequence that will make sure that it's stable as it goes up," explains Versavel. "It allows the whole product to go together very quickly because there is no site work that is required… You get a very rapid enclosure of a structure."
Wide-body aircraft typically have a fuselage that is more than
5m in diameter, multiple aisles and several cabin classes. A narrow-body aircraft, by contrast, has a single aisle and is usually less than 4m across.
KF focuses on heavy maintenance, meaning that a plane receives thousands of hours of work over multiple weeks. "We remove the entire interior of the airplane and we inspect it and we do all kinds of work," explains Grant Stevens, vice-president of corporate services for KF.
The new hangar enables KF to break into the wide-body market,
while also continuing its narrow body services.
"A wide body hangar is quite a bit more of an investment because of course you've got that much more structure free span," says Stevens. "It's not like doing a warehouse where you can put a supporting pillar every 20m… You've got to have free span clearance in your building [which]… can start to astronomically increase in price and the challenges involved."
---
BECAUSE OF THE CLEAR SPAN DESIGN, THE BUILDING WILL HOLD ONE WIDE-BODY AIRCRAFT ALONGSIDE TWO NARROW-BODY AIRCRAFT OR UP TO FIVE NARROW-BODIES AT ONE TIME.
---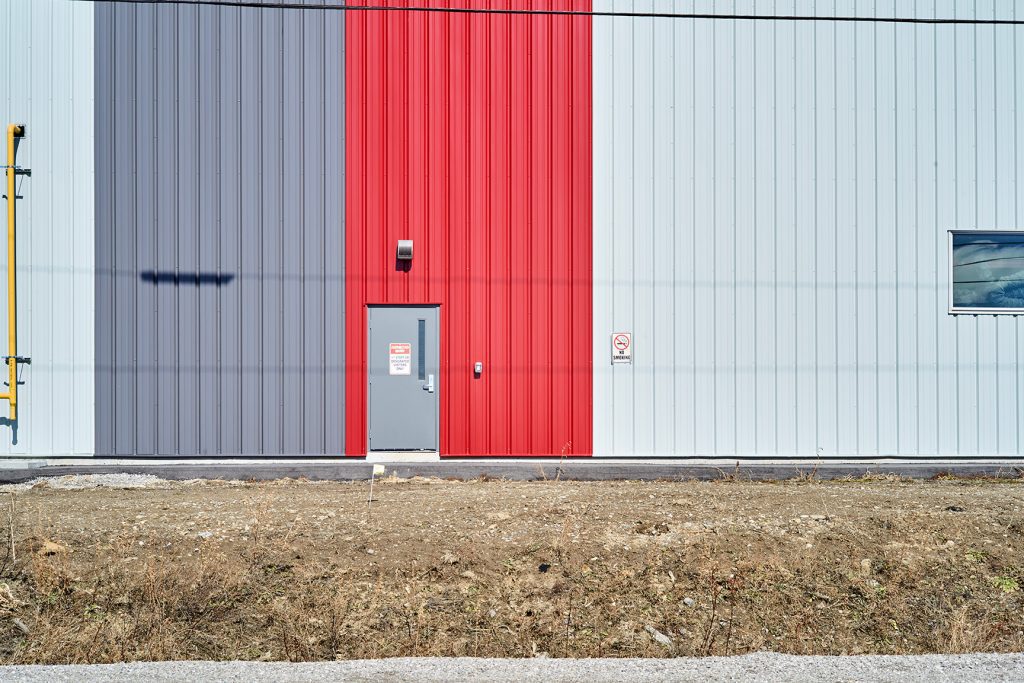 Because of the clear span design, the building will hold one widebody aircraft alongside two narrow-body aircraft or up to five narrow-bodies at one time.

In order to improve efficiencies in the operation, we wanted to
ensure that we had enough space," says Stevens. "The width really allowed us to do multiple different projects… So it gives us a lot of flexibility from the operational perspective."

In addition to the accelerated timeline, the scale of the building
presented challenges for manufacturing, transporting and
construction.

"We've got the capacity to weld members that are about 3m deep, and in this case our deepest member was about 2,700mm, so we're getting very close to the upper end of our maximum depth capacity," says Versavel.

Flange sizes, connection plates, bolts, the weight and length of
individual members, transporting the assemblies—every step of the hangar project was bigger and more complex.

Some members came in around 7,700kg. "You stack three of those on a truck and that's a full semi load," says Versavel.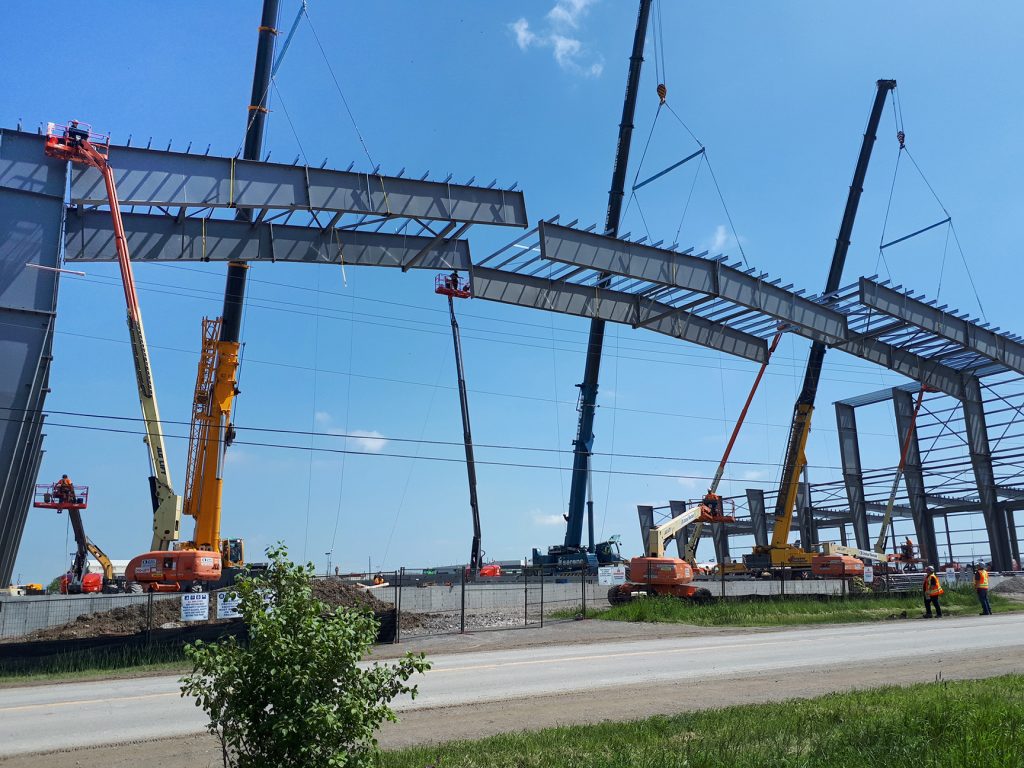 On-site in Hamilton, there was limited storage space, so pieces had to be delivered in the right order to keep construction moving.

To achieve the 85m span, KDM Erectors did a bay lift using three
cranes. Rafters were assembled on the ground then lifted up and
set into place.

Quality control was essential to ensure everything fit together
as intended.

"When you think of the cost of those cranes and the people and
everybody that's involved if things don't line up… it's a huge cost," says Versavel.

Flexibility was also critical. "When you're doing projects like this,
everybody's working on a fast track, but you have to still be
somewhat adaptable," says Versavel. As changes arose or designs were finalized, Behlen had to make adjustments.

"You need to support the product you've built. You can't just walk away and say I did my part," says Versavel.

Beyond the structural steel, the cladding and roofing also received special consideration.
---
TO ACHIEVE THE 85M SPAN, KDM ERECTORS
DID A BAY LIFT USING THREE CRANES.
RAFTERS WERE ASSEMBLED ON THE GROUND THEN LIFTED UP AND SET INTO PLACE.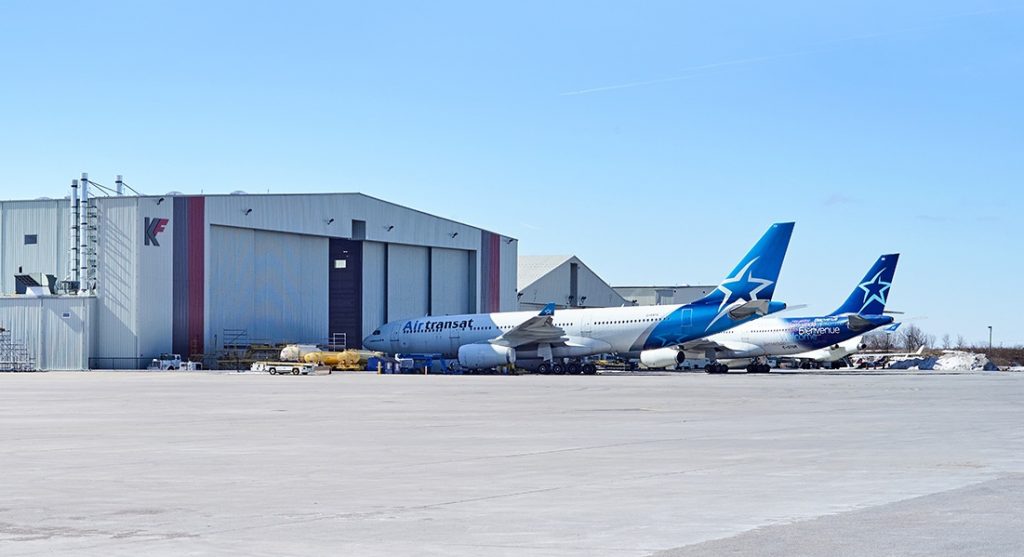 ---
On the siding, KF chose a three colour scheme with grey and red
vertical stripes at the corners to highlight the company's corporate colours. Paired with the company's logo, the cladding makes the hangar a striking billboard for KF.

On the roof, the company selected a lighter colour to improve
reflectivity and reduce heat transfer in the summer. Given the scale of the roof, expansion, contraction, splices and wind loading were also concerns. Versavel says, "The door could be open under a big wind, and so you've got lots of interior pressure as well as exterior pressure to deal with."

On a Saturday in November 2019, KF opened the giant hangar
doors and planes started rolling in.

The new space and new capabilities open up new opportunities for KF. Stevens says, "It gives us that additional space and allows us to grow our staffing out there significantly over the next 5 years… It allows us to break into the wide body marketplace. It also allows us to support some of the existing customers that may not have been able to stay in Canada in the past because there wasn't enough capacity."